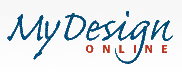 We love PDFs but if you  don't have software or don't want to take the time to learn it, here is a great alternative:
My Design Online (MDO) is just one of our free optional newspaper design tools that allows users to create newspapers from pre-designed templates without software. Newspaper design has never been easier.  If you don't own newspaper software or just don't have time to learn it–this is the designer for you.
The web-based program provides users with an uncomplicated way to create a newspaper quickly. Simply copy and paste or type your copy into the spaces provided and upload images and ads into the designated boxes to finish each page of your publication.
---
---
Browse the samples of available 11″ x 17″ (tabloid) templates below. There are different layouts and styles to fit the needs of your staff.
Browse the samples of available 8.5″ x 11″ newsletter templates below. These templates may be used for your literary magazine, news magazines or other types of publications. There are different options and styles to fit the needs of your staff.
Browse the samples of available 8.5″ x 11″ sports program templates below. There are various options to fit the needs of your athletic program.
The MDO Advantage
It's Free
Forget expensive software. It's free to all JS Printing customers.
It's Simple
MDO eliminates the need for hard-to-learn software. We've handled the design for you. Simply plug in your text and upload your images to create professional publications.
It's Online
No more long nights and weekends in the school's computer lab. The program can be accessed from any computer and an Internet connection. Have your publication created and printed in record time.
Frequently Asked Questions
What layout formats are available?
Users may create 11" x 17" newspapers, 8.5" x 11" literary magazines and 8.5" x 11" athletic programs in MDO.
Can multiple people work on the publication at a time?
Absolutely! MDO allows users to work on different pages simultaneously. Assign one student to page three, another to page eight and have them logged in and working at the same time!
What is the turnaround time for MDO orders?
All MDO orders follow our standard turnaround time based on the type of publication.
Do I have to format my images to JS Printing specs when using MDO?
While we will convert your color images to grayscale upon order submission, we do recommend that that all images be 130 dpi to ensure optimal print quality.
Templates for My Design Online
For easy viewing, each PDF is an index of all My Design Online templates.


PDF: Front Pages (Newsprint)


PDF: Inside pages (Newsprint)


PDF: Special pages (Newsprint)


PDF: Newsletters


PDF: Sports Programs


PDF: Fonts List