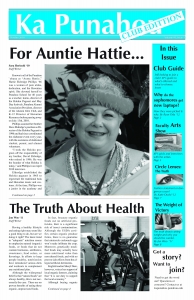 One spot color per month is available for purchase on newsprint publications. You may include the spot color of the month on up to eight pages. The color changes on the first day of each month.
Cyan should be used to designate spot color throughout your publication. (See sample on left)
Please refer to the TechKnow Lesson: Using Spot Color for complete instructions on how to designate spot color in your publication.
Spot color may be purchased by the page or group of pages within the same signature. A signature is a set of pages that make up one plate. Listed below are the signatures available for spot color on newsprint.
Pricing:
$50.00 One page
$30.00 Each additional page
Pages Eligible for Spot Color
4 pages
8 pages
12 pages
16 pages
20 pages
24 pages
1, 2, 3, 4
1, 2, 3, 4,
5, 6, 7, 8
1, 2, 5, 6,
7, 8, 11, 12
1, 2, 7, 8,
9, 10, 15, 16
1, 2, 9, 10,
11, 12, 19, 20
1, 2, 11, 12,
13, 14, 23, 24